The Which School Do I Attend? section of the BusPlanner Web site allows the public to determine which schools they are eligible to attend for a given address, district, and grade. This query provides users with an eligible list of schools they may attend using the existing schools, grades, policies, boundaries, and exceptions in BusPlanner. In order for this function to work, the address users enter must be one which already exists in the BusPlanner database. Once the user has a result, they may then link to the schools information page or determine if they are eligible for transportation.

For clients in Alberta or Saskatchewan, you have the option to turn on searches by rural land locations:
1.In Settings, turn on UseLandLocation.
2.Users will then have the option to search by either address or land location: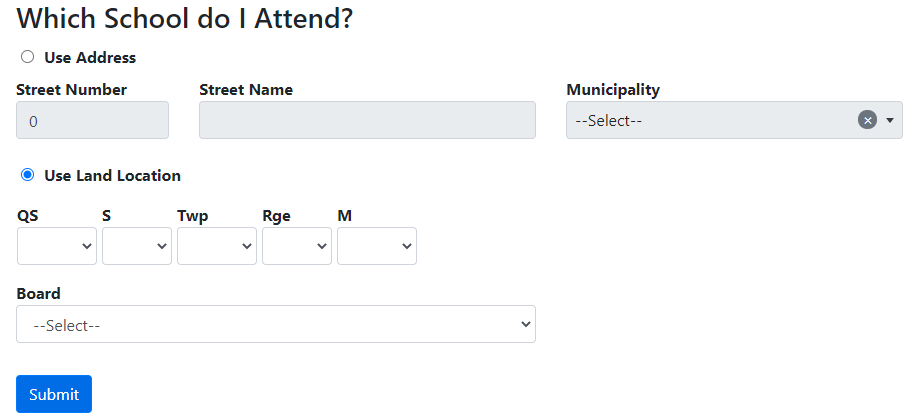 Note: This will turn on the same option for Can I Ride a Bus?, as well as Address Eligibility and Student Search in the professional portal.
The results will be displayed on a map below the search criteria. The school will be displayed on the map with a school position node. Each boundary on the map will have a different colour, which corresponds to a description of the grades within that coloured boundary displayed to the right of the map.

•For more information, see Maps in BusPlanner Web's Public Query. The size of the original map can be changed by using the setting Eligibility_MapWidth in Professional > Site Administration > Settings.
Note: School address, phone, and website information can be hidden by enabling Eligibility_ShowBasicSchoolInformationsetting in Professional > Site Administration > Settings.
If the user has entered an address which does not exist in the database, they will be informed with an error message at the top of the screen. If they cannot determine what the proper spelling of an address should be, they should contact the local transportation consortium.